5 Litre Eco Box
Sale price Price £180.00 Regular price
Tax included.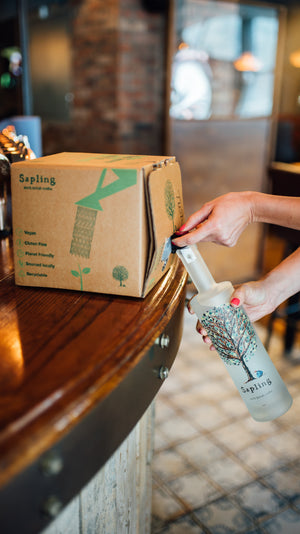 5 Litre Eco Box
Sale price Price £180.00 Regular price
Tax included.
The Eco Box : 
1. 5L 
2. Used to Refill Sapling Bottles 
3. £180 (Bottle Price Equivalent £25.21) 
4. Black Friday Deal (Bottle Equivalent £20.16) 
5. Product and Deal Only Available Until Tuesday 30 November 
6. Glass accounts for 37% of the Carbon Output Of Each Bottle 
7. Let us Know If You Think We Should Make These Available All Year Round  
As you know, we like to keep things GREEN. So, Black Friday doesn't generally sit that well with us. It leads to to hyper consumerism of what can generally be described as tat. This made us think, what could we do that would be different….. How could we make Black Friday a Green Friday? 
So, for the weekend (and Monday and Tuesday) we have decided to put our eco box online. What is the eco box you ask? Until today this product has only been available to the hospitality sector in order to help cut down on glass wastage. Bars, restaurants, and hotels all over the UK use these boxes to fill their empty bottles of Sapling. Today we are giving YOU the opportunity to fill your empty bottles of Sapling with our 5L Eco Box vodka. 
We have decided to list the Eco Box at £180. So with the 20% discount we are running it works out at £20.16 per bottle, so a £10 saving on the usual price. That should be your Christmas supply sorted! 
Climate Positive, and delicious? 🌳🍸
See more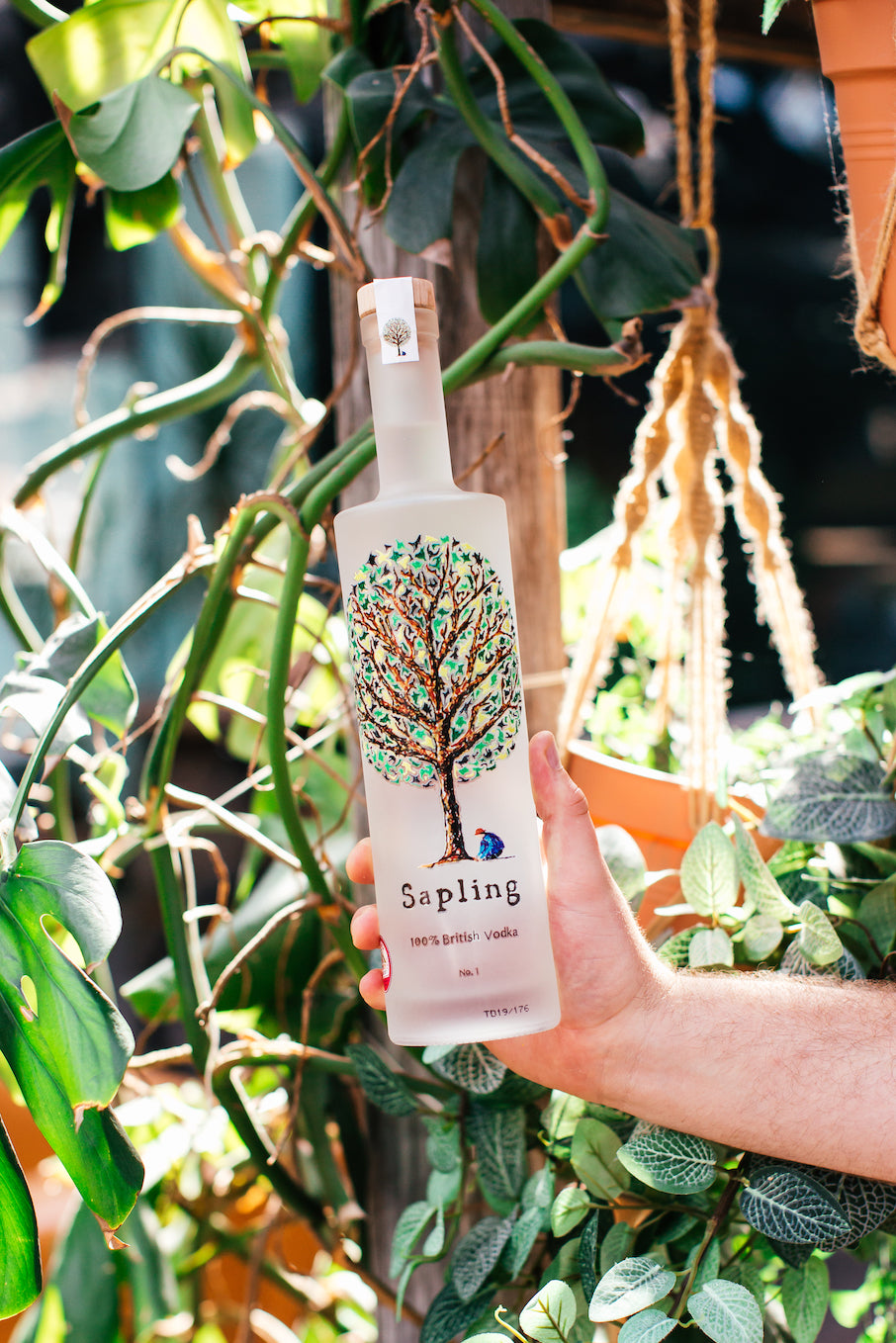 Produced in the heart of London, Sapling uses all British ingredients to reduce transport emissions. It is four times distilled from 100% British winter wheat and blended with charcoal filtered, de-ionised water.
The high starch content of the wheat leaves a fresh finish and a hint of natural sweetness that makes Sapling so easy to drink on the rocks, or in a range of popular cocktails.
For every bottle produced, a tree is planted. On each bottle a unique code tells you what tree was planted where and a little about the planting project. From fruit trees in London, to oak tress in Bristol, it's the local communities who benefit from our planting projects.
One tree can absorb up to 1.5 tonnes of carbon it it's lifetime. Making a bottle of vodka emits about 2.5kg of carbon. You could say each bottle of Sapling pays back over 535 times.
Climate positive and delicious? Cheers.
Thyme For Tea
Check out our cocktail page for some seasonal inspiration. In the meantime, here is Sam shaking his thing to create the one and only Thyme For
By entering this site you agree to our terms & conditions and privacy & cookies policy. We use cookies to improve your experience and make our website better. Discover more here.
This site is for use only by persons who are legally allowed to purchase alcohol in their country.
🌳 Subscribe for 10% Off 🌳
Subscribe to our emails for a regular taste of Sapling and get 10% off with your first order. Get exclusive access to new launches, offers, events, and the low down on our gardening series and cocktails.
choosing a selection results in a full page refresh